Questions to Ask Your Fertility Doctor
Questions to Ask Your Fertility Doctor
Your first fertility consultation can be equal parts exciting and overwhelming. On the one hand, you're taking the first step towards accomplishing your family-building goals, but on the other, you may be unfamiliar with the questions you should be asking to get the answers you need.
If you're not sure what to ask your fertility doctor during your first consultation, we can help. Here, we've compiled a wide range of questions to consider so you can take charge of your path to parenthood from the very beginning.
Questions About the Fertility Clinic
What percentage of your patients are similar to me?
What are your success rates?
Do you diagnose and treat both male and female infertility?
Are all fertility treatment procedures provided on-site or are some performed elsewhere?
Are all tests analyzed and performed in your own clinic?
How many people are on your clinical team?
Who performs treatment monitoring?
Who performs the fertility procedures?
Who do I contact every day if I have a question?
How often will I see my actual doctor during fertility appointments?
Do you offer appointments on holidays, weekends, or in the evenings?
Do you participate in clinical trials? Are you currently recruiting for any clinical trials? Am I eligible for any clinical trials?
Questions About Specific Fertility Situations
Are you LGBTQ+ friendly?
Do you have experience treating older patients?
Do you help aspiring single parents?
Do you provide egg donor or surrogacy services?
Do you specialize in fertility preservation or oncofertility?
Do you have experience treating patients with my reproductive condition (e.g. endometriosis, polycystic ovary syndrome (PCOS), etc.)?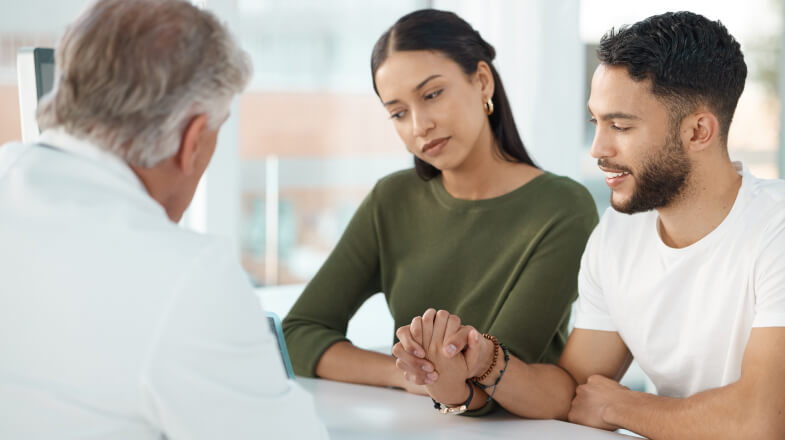 Questions About Fertility Care Options
What tests do you recommend for myself and my partner?
How long will it take to reach a diagnosis?
What are my chances of getting pregnant?
What types of fertility treatments do you offer?
What is your approach to creating a treatment plan?
How will you decide which fertility treatment is most appropriate for me?
How long will it take to complete our workup and come up with a treatment plan?
What is the first step in your treatment approach?
Are there any requirements for certain procedures?
How many cycles of intrauterine insemination (IUI) do you typically perform before suggesting in vitro fertilization (IVF)?
What is the typical IVF timeline from start to finish?
Am I a candidate for mini or natural IVF?
Do you perform 3-day or 5-day transfers?
What additional services are available for IVF?
Do you prefer fresh or frozen embryo transfers? Why?
Do you offer elective single-embryo transfer (eSET)?
Do I need preimplantation genetic testing (PGT)?
Do you offer gender/sex selection?
What options do you offer for unused embryos?
Questions About Fertility Preservation
Does the clinic have cryopreservation capabilities?
Do you store frozen eggs and embryos in your lab or use a third party?
What are the costs for storing eggs and embryos?
Can your cryopreservation lab withstand a natural disaster or power outage?
Questions About Third-Party Reproduction
Do you run an egg donor program?
Do you offer third-party reproductive services, such as egg donation and surrogacy?
Do you assist in coordinating surrogacy?
Questions About Costs and Financing
How much does fertility care cost at your clinic?
Do you take my insurance?
What is included in the prices for the various fertility services?
Do you offer financing options or payment plans?
Do you offer multicycle bundles?
Questions About Fertility Health and Wellness
Do you offer education and resources for your patients?
Do you offer counseling or other wellness services?
Do you provide instructions on how to administer fertility injections?
Are there any lifestyle changes that you would recommend?
Learn More About Your Fertility Options With Prelude
No matter where you are in your fertility journey, at The Prelude Network®, our goal is to provide you with the support and guidance you need. If you have any questions about any aspect of fertility or fertility care, connect with us today.